Electronic Weighing Scale
Types of Electronic Weighing Scale
1. INDUSTRIAL CRANE WEIGHING SCALE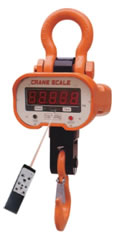 Features
Maximum Capacity: 1T, 2T, 3T, 5T, 15T, 20T & 30T.
Readability: 1 Kg, 2 Kg & 5 Kg.
Large LED display for excellent visibility.
Heavy Duty ZEMIC (USA) Make Single Block & "S" Type Load Cell.
High Tension Hook and shackle.
Accuracy: compatible to OIML class III.
Industrial Keypad for (Tare – Zero & Other Setting).
Alluminium Casting or Metal Body with Power Coat Painted.
Models with high temperature shield available.
Gravity acceleration correction; so, can be used at anywhere in the world.
Accuracy is verified by three bits so, very much reliable.
Tare remote controller (Optional).
Inbuilt Rechargeable Battery (6V 4.5Ah).
RS 232 Comport for Interfacing System (Optional).
Handy Thermal Printer Facility (Optional).
Wireless Display (Optional).
Above Weighing Scale Application For
Hydra Crane - Safe Load Limiting - Crane Weighing - Fabricators - Ship Building Industry - Tension Checking
---
2. INDUSTRIAL FLOOR WEIGHING MACHINE (Four Load Cell Based)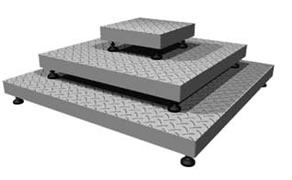 Features
All Steel construction with industrial Powder Coating
PIPE, ANGLE or "C" CHANNEL Based Platform Structure.
High Precision ADI ARTECH (USA) Make Load Cell.
Sturdy MS structure provides equal Load distribution.
High Resolution Load Cell with Over Load stoppers and Transport Protection.
Large LED Display with a optional of remote display.
Counting mode, percentage weighing, Wt accumulation.
Platter construction options can be SS/MS Checkered.
220V AC/built-in 6V rechargeable battery 50hrs backup.
Available in Single load cell and 4 load cell design.
150% Overload protection.
Options: RS-232 interface for computer interfacing.
Options: Printer output for direct printing on printer.
Options : Wireless Weighing Indicators
Options : Attach or Loose Pole for Indicator
Available Platform Size:
400 X 400 mm
500 X 500 mm
600 X 600 mm
750 X 750 mm
900 X 900 mm
1000 X 1000 mm
1200 X 1200 mm
1500 X 1500 mm
1500 X 1800 mm
---
3. TABLE TOP SERIES (Available Metal & ABS Body)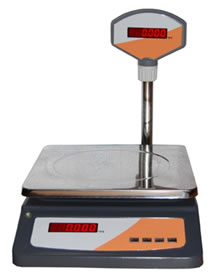 Features
The Ultimate Performance & Price Package
ABS, S.S. & Power Coated Metal Body
Stainless Steel pan
Standard Display - Front, Rear or Pole
Red/Green LED Display (0.56" - 0.75")
Support for thermal and dot matrix printers
Piece counting, Check weighing & Liter Facility
Auto Off Function for battery backup
Backup of 40 hrs supported with a rechargeable battery.
SPECIFICATION
Capacity

3 Kg

5 Kg

15 Kg

30 Kg

Readability

0.1 g

0.5 g

2 g

5 g

Pan Size

175 X 225 mm

175 X 225 mm

200 X 225 mm

250 X 300 mm

Display

Choice of Red / Green LED (0.56" high)

Power

220-240V AC; 50Hz OR 6V, 4.2Ah Rechargeable battery

Temperature

+10 to +50 oC

Optional

RS-232 Connection
---
4. PRECISION SCALE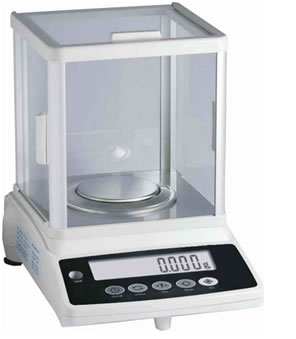 Features
Multiple Weighing units & precise counting function
Units can be enabled or disabled as per country regulations
Full Tare Rang, Auto Zero mode
Price Computing Function.
Remote Display suitable for desktop mounting.
Low Battery Indication, Dummy Zero Facility.
Draft Shield to reduce errors due to air movement.
Mains / rechargeable 6VAH battery operated. 50hrs backup.
RS232 / direct printing option. Continuous / command control.
SPECIFICATION
Capacity

100 gm

300 gm

600 gm

1000 gm

Division

1 mg

10 mg

10 mg

10 mg

Display

0.5" Large LED Display RED, VFD Green

Platter(mm)
70 Dia
120 Dia
Accessories

Remote Display Draft Shield Brass Wt 200g RS 232 Printer Interface